Living vicariously: Ireland
Tuesday, we're here!! And it's time for you to meet another wonderful. This is Claire, the fabulous big sis of one of my besties. She's an Irish friend I've had for many years who shares a passion for exploring design and crafting. We're living vicariously today...in Ireland.

For the past few weeks I have been happily soaking up the joy from all the summer ideas on Pinterest and my favourite blogs. Summer picnics, frozen treats, BBQ salads, floaty dresses, outdoor weddings, birthday parties in the park, drive-in movies... Images such as this beautiful picnic scene are the kind of days I am dreaming about.
And then I remember that I live in Ireland.
Now, don't get me wrong, there are many wonderful things about living in Ireland, the 'craic', the great culture, the stunning scenery, the friendly locals, however it is also fair to say that we have a fairly complicated relationship with Summer weather.
Put simply, you are likely to need your raincoat for all but about 2 weeks of the year. I'm not saying that it rains all the time, because it doesn't, just a little of every day. We have light showers, heavy showers, every kind of shower except for Wedding and baby showers (but that is a whole other issue!). It means that only the most optimistic of party-planners are seduced by outdoor paper lanterns and luminaries, as damp paper doesn't look good in any language.
Last year I moved to live at the coast in the most Northwest corner of Ireland, beside amazing wide golden sandy beaches, miles long. Here is my local beach on one of the ten or so days of summer we've had, truly glorious.
Today, in the middle of June, I'm looking out at driving rain and 54 degrees. My garden chairs are calling to me, bemoaning the fact that I promised them sunshine and lunches and dinners al fresco, and they have barely a dent so far.
But you know, the Irish summer makes you hopeful. There is nothing like the rush in the shops for shorts and flip-flops on the first day of sun in early May when 'exam weather' arrives to make a whole country think that this will be the year of the hot summer, just like the ones when we were kids and the sun seemed to shine all summer long. My mummy will inevitably tell me about the long range weather forecast, which promises a summer of BBQs and Vitamin D for everyone.
Then when we stop being hopeful, about the middle of July, we start being grateful. Grateful for even two sunny days in a row. Grateful for warm dry days at the beach, with hot tomato soup after you swim in the cool Atlantic, even if the sun doesn't shine. Grateful for the beautiful green of the country and for a pub with a fire on and some nice pub grub.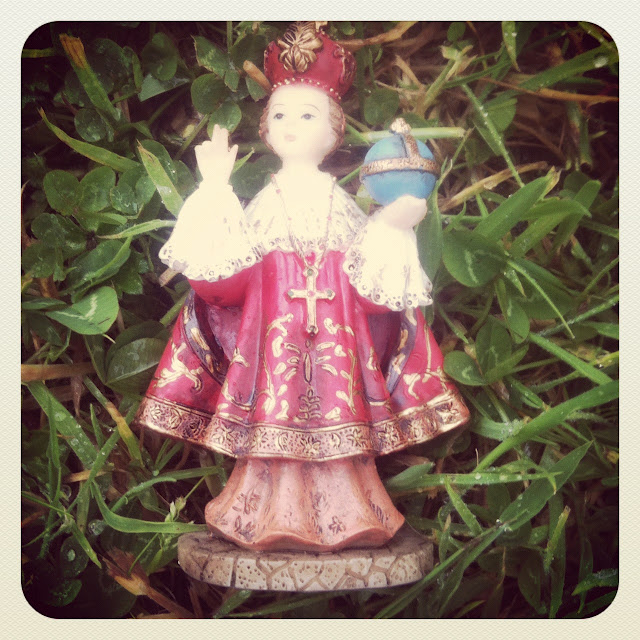 And there is nothing as hopeful or as grateful for a sunny summer day as an Irish Bride! Not many people outside Ireland know that the summer weather for weddings is actually controlled by a small statue of the saint of the Child of Prague.
It is traditionally placed under a hedge the night before a wedding to ensure a dry day for the bride. Before the weddings of both my sisters there were multiple statues under multiple hedges placed by my mum's friends.. and it did work for them!
However, for those brides who do have to use their umbrellas after all, there is still gratitude. For a bright day, or that they at least got from the car to the church without the rain, and if all else fails, that the notoriously fragile neck on the Statue survived the trip under the hedge! (There are many Irish homes where a beheaded statue of the Child of Prague awaits some super glue after an over-enthusiastic game of football indoors) :)
So come to Ireland... and bring your raincoat!
And as for me, I'm off to Portugal for a week to lie on the beach where I am guaranteed a recharge of Vitamin D!
I wanna go!! Thanks so much for joinin
g us, Claire. We'll see more of Miss Claire on Thursday, when she offers us a lovely DIY. How about you, friends? Have you enjoyed an Irish summer? XO, MJ